The Farm
Our farm is located on the sunside of Puster Vally and we look back on a tradition-rich history, which can be followed back until the 19th century. You can enjoy the gorgeous panorama view of the village Nasen and the Dolomites in our frontyard. There you can find also a lawn for sunbathing and a childrens playground.
Several animals are living on our farm. At the moment we have 10 dairy cows and a calf, two pigs, chickens and one cock, as well as goats, rabbits and cats to pet. Because of this we have fresh milk and eggs out of our animal husbandry every morning, as well as seasonal products (mainly vegetables) from our farm. Furthermore you can request our "fresh bread service" is available all-year.
Since we count on sustainability, our energy is biomass-derived, directly out of wood chips.
Tour of our farm
We have the pleasure to show you our farm when you arrived and from the 5.00 p.m. you can also be present at the activities in the stable.
Own products
Fresh Vegetables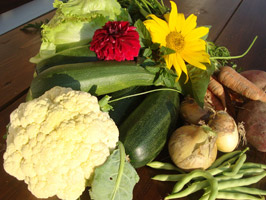 In our garden grow, depending on the season, a lot of different vegetables: salads, carrots, zucchini, beans, onions, cauliflowers, kraut, red cabbage and many more. We maintain our garden biologicaly without any fertilizers. The garden is Magdalenas duty, who cares about the plants and flowers with joy and devotion.
Milk
Karl milks the cows every morning and evening. After that the milk goes into a cooling tank, before it is delivered to the milk collecting point in Nasen. Milk contains a lot of important minerals and vitamines, for example the Calcium in it is essential for bones and teeth and benefits growth.
Eggs
Maria feeds and sustains every day the chickens in their stable, as well as she collects the eggs in their nests. The egg is one of the basic foods on a farm, because it can be used in countless ways, for breakfast or dinner or as ingredient for cakes or almost every South Tyrolean special meal.
The Thalerhof was built 1847 and lead until 1851 by Johann Preindl and Maria Seir. Then Josef Winkler lived on the Thalerhof, which handed it over to his daughters family in 1887. Johann Leiter bought the farm on 30.12.1907, but leased it 1923 because he moved with his wife and his two children, Urban and Mathilde, to the bigger, but also just leased Hutterhof farm.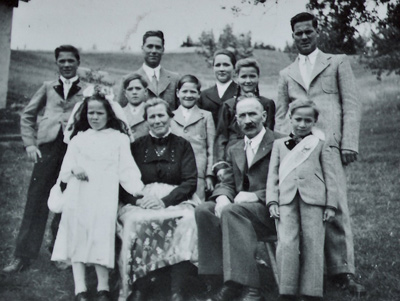 His son, Urban Leiter and his wife Anna Haidacher took over the Thalerhof on 22.01.1932. Nine children(picture) came out of this marriage. The oldest son got the farm 1974 and managed it with his wife Maria Messner until the takeover of the farm by his oldest son and current Leader Leiter Karl 1997. A new residential house has been built 1992 and after 16 years, it was refurbished. Moreover a new appartment for the parents and two vaccation appartments were built up. Currently the farm is lead by Karl and M.Magdalena Oberleiter, with their four children: Daniel, Christian, Hannes and Katja.