Kid's Paradise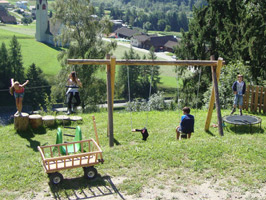 Farm holidays are more than just holidays also for our little Guests. They can explore the farm and the environment of the Thalerhof in the free countryside, surrounded by nothing but meadows and woods. They can watch animals and frolic around in the near forrest and experience Mother Nature in all of her aspects, far away from traffic and other urban dangers. Together with us they can see where milk and eggs really come from or see our farm animals from up close.
On the southside of the farm, there is a childrens playground with a swing, a slide, a sand box, a climbing rope and a trampoline.
The whole family can enjoy the near hiking and bike paths, of which many can be walked with Kid's without problems.